Sometimes when we buy a new brand of machine, we forget to check what type of file it can read. So, after the installation of the machine, we got confused about the file. Here I will tell you the Brother embroidery file type. Also, I will discuss some other machines as well. So, keep your eyes open till the end.
Brother Embroidery File Type and Format
Brother is one of the best embroidery machine manufacturer. Mainly they are very popular for single-head embroidery machines. Brother machines mainly supports PES and PEC file format. Some may support DST as well. But the appropriate format for the Brother machine is PES. So, always we need to use PES file format for them.
Machine category: The Brother machines are mainly used with hoops or frames. Most of the time we get a problem form hoop is about the size of the design. And clients buy 4×4 inch small hoop machines a lot. But when we actually size a design to 4 inch it doesn't support. Slightly we need to reduce the size. Then the machine can read that file. Also, you may use bigger hoops on other bigger machines. But the small one like sewing machines are fixed. You cannot use more than 4×4 designs. Mainly new customers ask about Brother embroidery file type. After all It's a good product for embroidery digitizing business.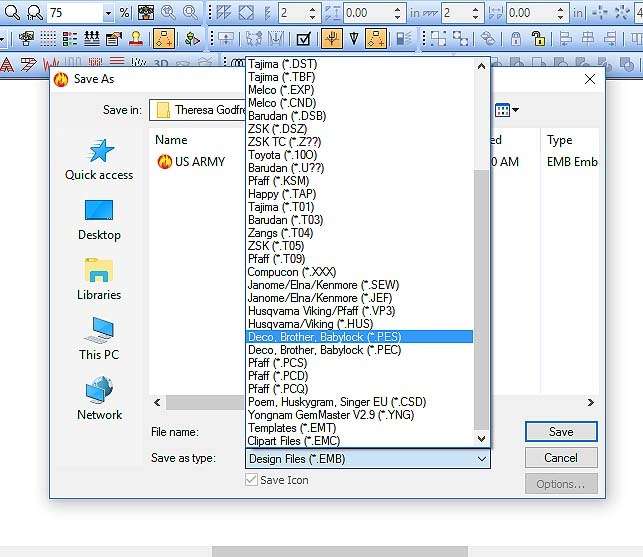 Why Single Head Embroidery Machine is Best for Small Business?
Before going on that point, let's talk about the multi-head embroidery machine first. Multi-head machines are mainly used in industries and big whole sellers shops. They are very efficient and faster for big projects. Because it has 10, 12, 15, 18, and 20 heads maximum time. Also, you can increase the heads to 50 or more according to your requirements. So, for small business owners, it's a bit tough to maintain. And for 20 head machine when you use 1 head only. Then the other 19 heads are idle. That's why a small business owner's choice is a single head machine.
And this is the only reason behind this. So, we can minimize the cost by using a single head machine. The Brother embroidery file type is always the same. It's not related to the head of the machine. All Brother embroidery machines are the same program. So, we convert JPG to DST, PES, or PNG to PES for those machines. Before you run the machine you need to insert the design. Then it can read the file and do the embroidery. Normally we download the design in PC first. Then we download it to the USB and then send it to the machine. This was is quite easy to download design to the machine.