Embroidered patches can smartly turn your regular dresses into vintage-style clothing. These patches are best suited to your tricky pockets, especially for bulky items unfit for the embroidery hoop.
You can design high-quality embroidered patches by yourself to upgrade your skills in embroidery patch designing.
Choose the best option for making embroidered patches from the following unique ways. Take a suitable motif, collect your embroidery materials and tools, and let's get started!
Step-By-Step Guidelines: 5 Best Techniques to Design Embroidered Patches
1. Hand Embroidered Patches
It is a most complex way to design a whole patch by hand embroidery, but if you love embroidery and wish to improve your skills, it is a good choice for you to show your creativity over patches
It is a time-consuming process, but when you passionately and patiently design your patch, it will be worth taking your time and effort.
What You Need For Designing
An embroidery hoop
Colorful threads
Needles
Scissor
Take a piece of cotton fabric and fix it into the embroidery hoop, but you have to ensure the fabric is bigger than the hoop. Later on, you can easily cut the excessive part for the design
Stretch the fabric to fix it perfectly and provide you smooth texture for carving embroidered design.
Trace the design onto the fabric with the help of tracing pap
Take three strands of thread to pierce them into the needle, then start embroidery
After finishing your embroidery, cut the design neatly and closely from the back stitches. You need extra sharp scissors for this process; otherwise, you will never get finishing with your design
Apply fabric glue at the back of your patch to bond together all the stitches
Now your patch is ready to place! It depends on you to place it through stitching or use adhesive.
You change simple embroidered patches into embroidered iron on patches by attaching a fabric fuse to place over your outfits and other accessories with ironing.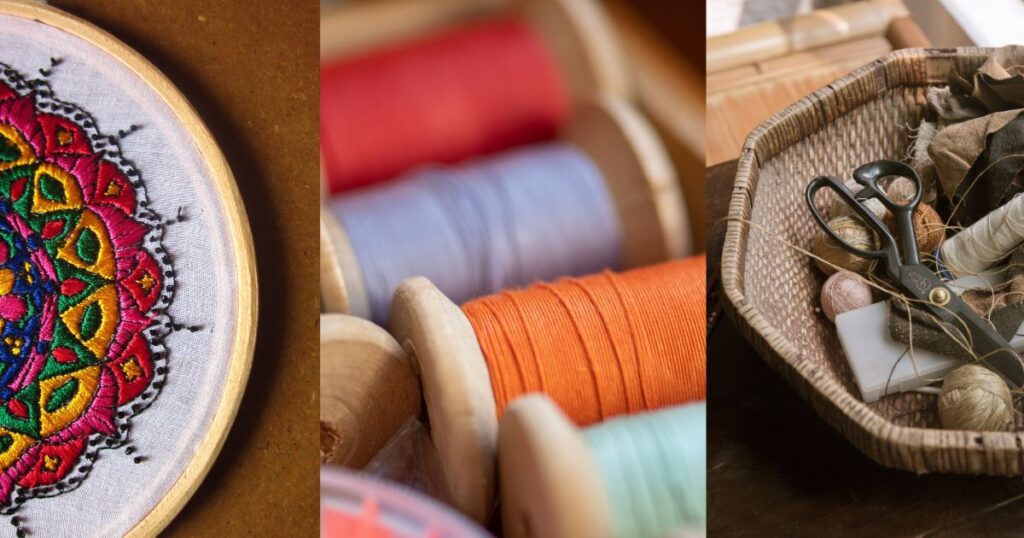 2. Zig Zag Stitches Patches
This patch is made with zigzag stitches for the outline of the design. You need to use zigzag stitches to make a thick border for the design. It is good to use contrasting color thread for the distinctive touch to the edges.
What You Need For Designing
A piece of cloth
Contrast color thread
Needles for hand embroidery or zigzag sewing machines
You can use denim, thick cotton, or printed canvas fabric to make a patch
Draw your favourite design, then make zigzag stitches over the outer edges of the patch
If you are carving an outline with your hands, don't forget to fix a piece of fabric on the embroidery hoop, rather you use an embroidery machine to make a thick outline
After finishing your stitches take off the embroidery hoop, then cut the fabric closely from the edges. Use sharp scissors for the fine cutting, and you get your desirable design
Apply fabric glue to add some detailing to the edges
Now your patch is ready to be placed! If you make a patch for kids, make sure to use funky printed cloth or vibrant color thread for zigzag stitching.
3. Free Motion Embroidered Patches
For this method, you need to use free-motion embroidery to fill the inside part of your patch.
What You Need For Designing
Colorful threads
Embroidery hoop
Darning foot for sewing machine
Sharp scissors
Take a piece of fabric, and fix it on the embroidery hoop to draw a design
Remove the hoop and place it under the sewing area of your machine
Fill your design with free-motion stitches, filling you have to need a darning foot for your sewing machine
Keep your focus while making free-motion embroidery. Change the thread wherever it's needed
Cut the excessive part of the fabric without touching the embroidery threads
After this, you can use a zigzag stitches method if you want a dense outline of your patch.
Apply fabric glue to bond the edges of your patch, it will give it the finest touch.
4. Hand Embroidery Stitches in Portions
It is a unique way to give your clothing items or accessories an elegant touch. You can make patches for your loved ones for floor mats, cushions, curtains, and outfits!
What You Need For Designing
Embroidery hoop
Threads (colorful or the same color)
Needle
Sharp scissors
Take the fabric and fix it on the embroidery hoop to make the design
You can use another fabric from which you can trace images, alphabets, or numbers. Make sure your fabric is plain black or white; then your design will be prominent
Fill the inside portion of your patch with satin stitches of contrasting thread or you can use colorful thread for the numbers or alphabet
Cut the fabric some distance away from your design
Stitch the edges of your patch with black or white thread. Don't worry about the finest look, sometimes, even a little messy outcome looks creative
Apply fabric glue along the sides of the fabric to give it a final touch
For instance, if you are offering custom embroidery services, you can make custom embroidery patches for the motorcycle gang by carving a roaring gang name with the help of hand-embroidery stitches in portions over these patches.
5. Use Felt To Make the Patches
Felt is the best method of making embroidered patches. You can cut it in any shape, it never be ripped off.
What You Need For Designing
A piece of felt
Colorful threads
Sharp scissors
Sewing machine
Take a piece of felt, make the design on the felt
Place it under the stitching area of your sewing machine. Fill the inside part of your patch. You can use contrasting color threads for the details. For example, if you are designing a cartoon character, you can make its eyes and nose with black thread (during designing, keeping your focus on threads will give you worth taking results)
Carefully cut the excessive part of felt. If required, stitch the edges of your patch to give it a final look
Now your patch is ready to be placed! You can place it over your clothes to upgrade your personality style.
It's Wrapping Up
Hope this article will give you a fun-loving insight into embroidered patches. Nothing is more pleasurable than crafting unique patches with your own hands, which provides you with endless ways of making embroidered patches.
Keep practising your skills until you create your statement style. Grant a vintage touch to your clothing in a new way with these patches. Enjoy embroidery!