Want to know about machine embroidery stitches types and names? Read this article now to learn about embroidery stitches in details. I will explain you the various types of machine embroidery stitches with the image also. 
Machine Embroidery Stitches Types
There is a lot of embroidery stitches available in embroidery software. Also, there are some manual embroidery stitches too. Today I will explain you some most used and major machine embroidery stitches. So, you can learn more about machine embroidery. First, we will talk about the usage and the difference in those major stitches. And then I will describe you more details about machine embroidery stitches with images.
What Is An Embroidery Stitch?
Embroidery stitch is also can be called as embroidery swing. There are many kinds of embroidery swings available. Each needle drops is count as a number of stitches. That means if there are one thousand stitches on a design, then we can understand that the needle will drop one thousand times. Also, it's the easiest method to know the number of needle drops on a design. All embroidery costing and timing is based on the number of stitches. So, the stitch is the embroidery and embroidery means stitches.
What Is Satin Stitch In Embroidery?
Satin stitch is also called as a jump stitch. It runs like a left-right-left-right technique. Also, Satin is the most used embroidery stitch ever. It's very nice and finest stitch ever. Mainly for any straight objects which is less than one cm, we can use Satin stitch. Here I will practically show you what is Satin and how to sew it. Both hand and with the embroidery machine, you can sew this Satin stitch. Here is an example image of Satin embroidery stitch below.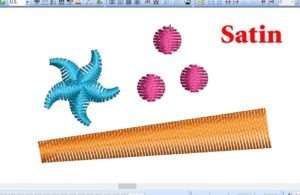 On this image, you can see an example of machine embroidery stitches types. Which we call Satin stitch. So, I will not explain more details about Satin stitch here today. Because we also have some other embroidery stitches what we will take a look shortly. Here I will try to show you some other stitches types as well. The Satin we have already seen. Now we will see Tatami, ZigZag and Cross Stitch.
What is Tatami Stitch?
Tatami is a stitch which is known as a fill stitch. It's used to fill big shapes objects. When an object is larger than 1 cm we use this Tatami stitch. It's a nice looking filling stitch ever. Mainly the shape of the Tatami is different to see. It's smooth also. Here is an example image of the Tatami embroidery stitch below.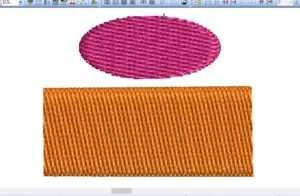 On this attached image you can see an example of the Tatami stitch. It's the finest stitch for any larger objects. There are also many kinds of Tatami stitch available. But the most common and most used is this one. Also, we can customize this Tatami effects on different shapes and different angles.
What Is Zigzag Stitch?
The zigzag stitch is like a left-right zigzag effect stitch. It's a bit similar to the Satin stitch but, only the difference is the Satin goes by one like straight one line angle like this. And the zigzag stitch goes like an angle to angle. If we make the spacing of the zigzag stitch very close, then it will look like Satin. Only we can understand that is a zigzag when its spaced enough. Here is an attached example image of the zigzag stitch. Hope this will help you to understand the stitch more easily.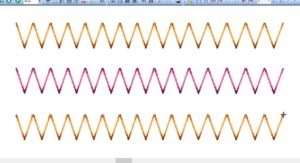 So, this is called zigzag stitch in embroidery. It's also very nice to see when we use this for the manual effect embroidery designs. 
Cross Stitch Embroidery
The cross stitch is also a very nice stitch in embroidery. Cross stitch is used in many kinds of embroidery designs. Hand embroidery, machine embroidery, and other effects also we can use this cross stitch. There are many kinds of cross stitch available in machine embroidery. Some of them called as the full cross, half cross, side cross, quarter cross etc. Here I will show you the most used cross stitch which is also known as the full cross stitch.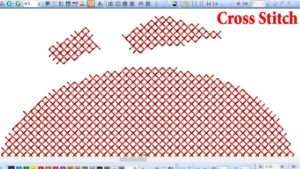 On the attached image you can see an example of the full cross stitch. In machine embroidery stitches types the cross stitch is a major type. That's all about machine embroidery stitches types and names for today. In the next article, I will explain you more about machine embroidery stitches. Stay connected with us on Digi Embroidery Facebook page.
[kkstarratings]