What Is Freelancing? How can someone earn money by doing freelancing at Embroidery Digitizing?
What Is The Definition of Freelancing? 
Freelancing is one kind of a contract-based profession where instead of being recruited in a company, he\she uses his experience and skills to provide services to multiple clients at one time. In a word, a freelancer is a self-employed person. Freelancers generally earn their penny on a per-job basis, charging per hour or per day basis rates for their work.
The Freelancers are liable for all kinds of things that usual employees are not, such as fixing their job hours, keeping the total time values what has been spent on different projects, paying their own employment, billing clients, and business taxes. Freelancers are not deliberated "employees" by the companies they work for, but rather "contractors."
Most Common and Demanding Freelance Career Fields
As one can see from the freelance work or job listings on FlexJobs, a variable number of companies and organizations hire freelancers.
One'll be hired in almost every kind of freelancing job differ from small, temporary projects to long-term and full-time projects.
The most common and demanding freelance career fields openings are:
Computer

HR & Recruiting

Accounting & Finance

Administrative

Editing, Proofreading, and Writing

Embroidery Digitizing

Project Management

Data Entry

Technical Support

Software Development
Here you can get the idea that how much demand full is this, Embroidery Digitizing. So, If anyone wants to build his/her career in this field, you are
Welcome to the World of Digitizing of Embroidery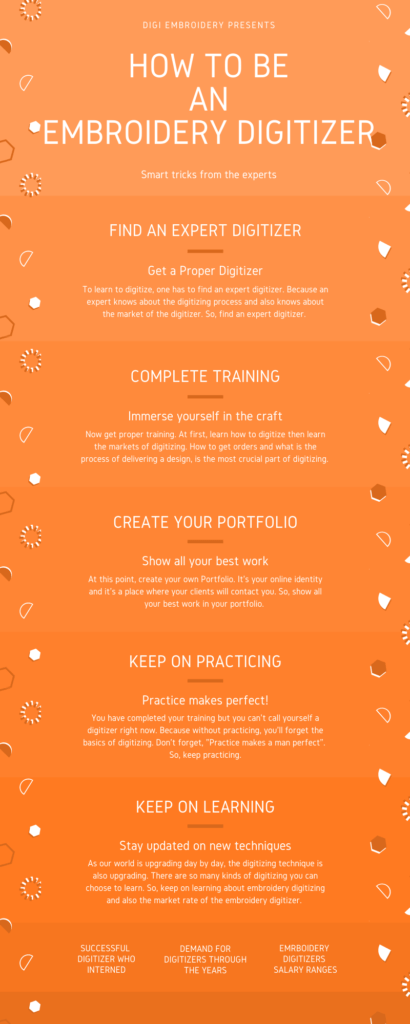 Now, you are thinking
What is Embroidery?
How can you digitize embroidery?
How can you go forward in this career? How can earn money by doing freelancing at embroidery digitizing?
What is Embroidery?
Embroidery is a very ancient kind of folk art that has been popular till now. ………… ( to know about what is Embroidery, please click here)
How can you digitize embroidery?
If you have decided that you are gonna build your freelancing at Embroidery Digitizing (freelancing career) , right now all you have to do is doing a lot of design practice.
At first, you have to install the software. For that, you have to download the software (Wilcom Embroidery, Hatch Embroidery, etc) where you'll digitize the design and install it on your computer. And this installation process is very tough. So, let some expertise help you to install it successfully.
When the installation process is complete, here you will see so many tools, and here you are, you don't know anything about that. So, don't be scared. Here you'll find all the embroidery tools name and what can you do with these tools.
How can you go forward in this career (Freelancing at Embroidery Digitizing)? How to earn money by doing freelancing at Embroidery Digitizing?
Not just from this work, from any field or path, you decided to earn from, you have to learn first with all your patience. So, give yourself enough time to learn how to digitize the embroidery. You can seek help from some experts.
One of the best ways is to learn from a freelancer who is already an expert in this field. Because the freelancer who is already an expert on embroidery digitizing, not only he/she can teach you properly but also he/she knows very well how to get much order in no time and how to communicate with his/her clients.
So, if you can contact an embroidery digitizer who is a freelancer and have enough experience, then don't think twice. Because I can assure you that you are on the right path. Here you'll get full guidance to become a full-fledged embroidery digitizer. It'll be a bit difficult to get a freelancer teacher who will be eager to teach you. So, have some patience. Till you get an expert who will teach you digitizing, you can research the market area (Fiverr or any market place) of embroidery digitizing.
In your  learning period, please don't waste time aimlessly. Because  freelancing at Embroidery Digitizing is not very difficult. If you give your 100% to learning embroidery, you'll be an expert an embroidery digitizer in no time.
Now, You have to decide which paths you are gonna follow. There are no other paths in freelancing at Embroidery Digitizing. All you have to be attentive to your work and practice a lot of designs. So, if you want to earn by doing freelancing, I will suggest you should take some time to think about which career paths you are going to choose.